ADVANCED TECHNOLOGY
---
Date and time stamp incident logging allows easy access to visual data related to a specific incident. Being able to go back in time to see what led up to an incident is a great feature which will help facilities to analize the incidents and prevent them in the future.
Advance Computer System allows future software enhancement and easy access to multiple channels.
Fisheye Lens technology allows to records the entire MRI environment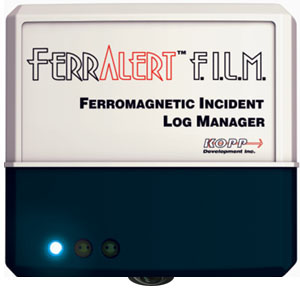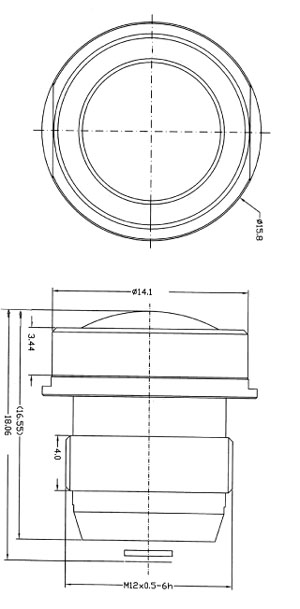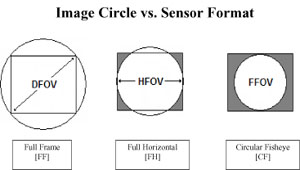 F.I.L.M. FUNCTIONALITY
---
VISUAL ADVANCE PRE-WARNING
All 48 red alarm lights of FerrAlert™ HALO II PLUS are activated on the approach of a ferromagnetic wheelchair WELL OUTSIDE scanner room. No Audio alarm sounds at this time.


AUDIO ALARM AND F.I.L.M. ARE ACTIVATED
When the Photoelectric sensor of the FerrAlert™ HALO II PLUS is crossed, the F.I.L.M. stores the images that lead up to the activation. F.I.L.M. continues to take and store images after the incident occurs to document actions after the incident.


PROJECTILE THREAT PINPOINTED
In this image, both bottom sensors are activated indicating that the area of the threat is near the floor and ferromagnetic. The location feature allows determination of the position of ferromagnetic objects for post incident data analysis.


ACTION TAKEN AFTER INCIDENT
The person did not continue into the scanner room, but instead turned around and the left the area. The green READY lights illuminate indicating that there is no approaching ferromagnetic threat.


UNIQUE FEATURES
---
LOGS POTENTIAL AND ACTUAL PROJECTILE INCIDENTS
PROVIDES A VISUAL RECORD OF THE EVENTS LEADING UP TO THE INCIDENT
PROVIDES A VISUAL RECORD OF THE ACTIONS AFTER THE INCIDENT
ALL RECORDS OF INCIDENTS ARE DATE AND TIME STAMPED
SIMULTANEOUS VIEWING INSIDE THE MRI SCANNER ROOM
ASSISTS WITH ROOT CAUSE ANALYSIS
FACILITATES THE JOINT COMMISSION COMPLIANCE FOR INCIDENT LOGGING
PATENT PENDING
For a list of international patents: click here
HIPAA COMPLIANT
TECHNICAL SPECIFICATIONS
---
Dimensions:
Height 3.153" (80.09 mm), Width 3.951" (100.36 cm), Depth 3.830" (97.29 mm)
Mounting:
Mounts on FerrAlert™ HALO PLUS Portal II
or Separate Mounting Bracket
(when FerrAlert is Inside MRI Room)
Complies with IEC 60601-1:2005 Medical Device Specification Requirements
Medical Power Supply:
100 to 240 VAC, 47 to 63 Hz, 25 Watts